Principal's Welcome...
Hello and welcome to our school website. As a past pupil of The Convent of Mercy it is a pleasure for me to be Principal of our school.
We have wonderful children and a great school with a very busy as well as varied curriculum and I hope you enjoy the various pages on offer on our website so that you get a real insight into the life of our school.
Please take time to look up our website and read all the new additions to it. This is a great opportunity for you to keep up to date with what is going on in school and to comment on the policies we are revising.
The site is regularly updated so ensure you check us out each week. I look forward to working with you and your children in the coming years.
Ababú
Bhí craic iontach ag na paistí san Aonad ag amharc ar seó ó Ababú.
The children in the Irish Unit had a lovely morning with Bunscoil Bheanna Boirche watching a Christmas show produced by Ababú called Cochallín Dearg. Even the adults had to take part!!
News
22nd Jun 2018
The whole school took to the playground to floss. Mrs Prenter even flossed in the...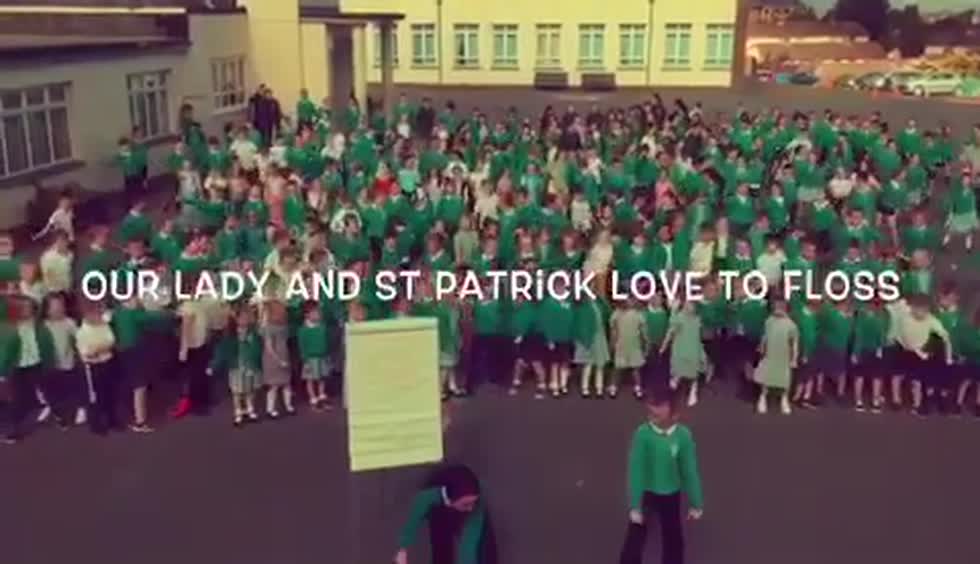 20th Jun 2018
P1 KM had a fantastic day at Streamvale farm. We got to hold baby chicks, pet puppies...
Dinner Menu
Please see Documents for the School Dinner Menu
Awards For All
We are delighted to have received 'Awards For All' grant of £10000, which will be used to create an outdoor learning classroom. We would especially like to thank Daniella McCarry and the members of the PTA for all their hard work with the application.
Saving with Downpatrick Credit Union
Just a reminder that Downpatrick Credit Union continues to operate in school. Children (and parents) are encouraged to begin saving and develop good financial awareness now and into the future. Come along every Friday morning from 8.40 am and meet the friendly staff!
Latest Gallery
Learning about South Africa in Geography
Geography
Mixing chemicals in Science
Home Economics
PE
Quiz
Inference in literacy
Making windmills in art
Origami boxes in maths
Making coasters in technology
Happy birthday Jim!
Happy birthday to the best ever crossing patrol man. Thank you for all you do for us.
Young Enterprise
P6/R6 and P7/R7 took part in 'Our World', a programme run by Young Enterprise NI. Pupils were introduced to important aspects of global trade. They took part in fun activities and learned about how less developed countries interact and rely on more developed countries. They explored issues such as debt, exchange and fair-trading. They developed an understanding of challenges facing businesses when marketing products internationally. Pupils enjoyed finding out about the importance of education in determining life choices during school and beyond. Children were connecting their learning through Literacy, Numeracy and World Around Us.
We would like to thank the consultants for the very informative and entertaining sessions.
World Book Day 2018
Safer Internet Day
Safer Internet Day
Create, Connect and Share Respect
We joined the global campaign on Tuesday 6th February 2018. Thank you to the PSNI, who came to talk to P4-P6 children about the importance of online safety.
Safer Internet Day is celebrated globally in February each year to promote the safe and positive use of digital technology for children and young people, and the campaign sees over 1,600 organisations unite to raise awareness of online safety issues and run events and activities. P1-P7 took part in lessons and activities highlighting how to stay safe online. Parents' information is available at https://www.saferinternet.org.uk/safer-internet-day/2018/sid2018-education-packs/education-pack-parents-and-carers. Please see our 'Links' section for parent and child resources. Together we can work to keep children alert and better aware of how to protect themselves online.
Nuachtlitir Chomhairle na Gaelscolaíochta 2017
News Letter can be found in Documents
Holiday List 2017/2018
Holiday List for 2017/2018 can be found in Documents
Upcoming Events...
June 2018
Sun
Mon
Tue
Wed
Thu
Fri
Sat

1



2



3



4



5



6



7



8



9



10



11



12



13



14



15



16



17



18



19



20



21



22



23



24



25



26



27



28



29



30


Tuesday, 26th June 2018
P6 Trip to Ulster University- STEM Shows
Friday, 29th June 2018
School Closes for the Summer Holidays (11am)
Our Lady and St Patrick Primary School, Edward St, Downpatrick BT30 6JD | Telephone: 028 4461 3045